EDIT:
po jakims czasie doszedlem do wniosku, ze poradnik ten jest przekombinowany :> (pewnie przez to ze to kopia)
najprosciej jak sie da, to:
1. bijemy malpy az otworza sie drzwi (z reguly celujemy w lucznikow)
2. po otwarciu bramy bijemy floatery (z reguly) az na poczatku dunga pokaza sie helikoptery
3. bijemy helikoptery (syskie cy)
4. biegniemy spowrotem do drzwi. bijemy
5. pierwszy bos i skrzynka za ubita brama
6. po skrzynce pada brama, bijemy tego malego czerwonego robocika. jak padnie biegniemy do bramy (jak ten maly robocik zrespi zanim padnie brama, trzeba go ubic jeszcze raz zeby brama dostawala obrazenia)
7. za brama ostatni bos. bijemy go ;P
8. the end



1. Wybijamy moby (Steam Mechapes i Steam Mechape Archers) az do otwarcia nastepnej czesci.


1. As you enter the dungeon, you will be met with 2 kinds of mobs: Steam Mechapes and Steam Mechape Archers. In order to proceed, you have to kill the mobs until the next area is unlocked.
Note: Killing a random key mob will unlock the next area. Try to hit as many of them as possible to increase the chance of killing the right one





2. W nastepnym pomieszczeniu bijemy Steam Floaters i Steam Hounds az na poczatku dunga pojawia sie trzy Steam Coptery


2. As you proceed to the next room, you will encounter another two kinds of mobs: Steam Floaters and Steam Hounds. Just like in the previous area, you have to kill the mobs until the 3 Steam Copters spawn in the previous area.
Note: Killing a random key mob will spawn the 3 Steam Copters. Try to hit as many of them as possible in order to increase the chances of killing the right one.[/size]





3. Wracamy na poczatek i ubijamy trzy Steam Coptery.


3. Go back to the previous area and kill the 3 Steam Copters.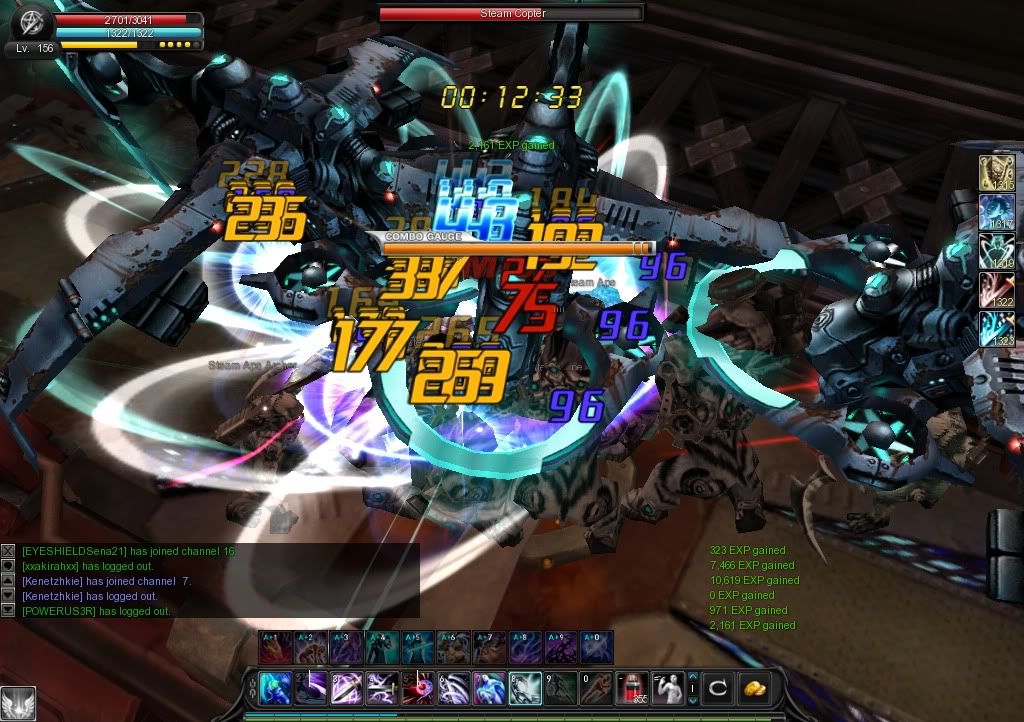 4. Po ubiciu Steam Copterow idziemy prosto az napotkamy sciane, niszczymy ja. Za sciana pierwszy boss Steam Penna.


4. Proceed to the front of the train past the Steam Floaters until you reach a wall. Destroy the wall. Behind the wall is the 1st boss; a Steam Penna.





5. Bijemy bosa (lepiej robic to blizej czola pociagu, poza zasiegiem Steam Floaters)


5. Kill the Steam Penna. You would like to move at the center to move out of range from the Steam Floaters at your back. After you kill Steam Penna, a chest will fall. Open the chest and move to the next area.





6. W nastepnym pomieszczeniu nalezy odszukac i ubic malego moba Steaky


6.a. In the next room, look for a small moving box called Steaky. Kill Steaky.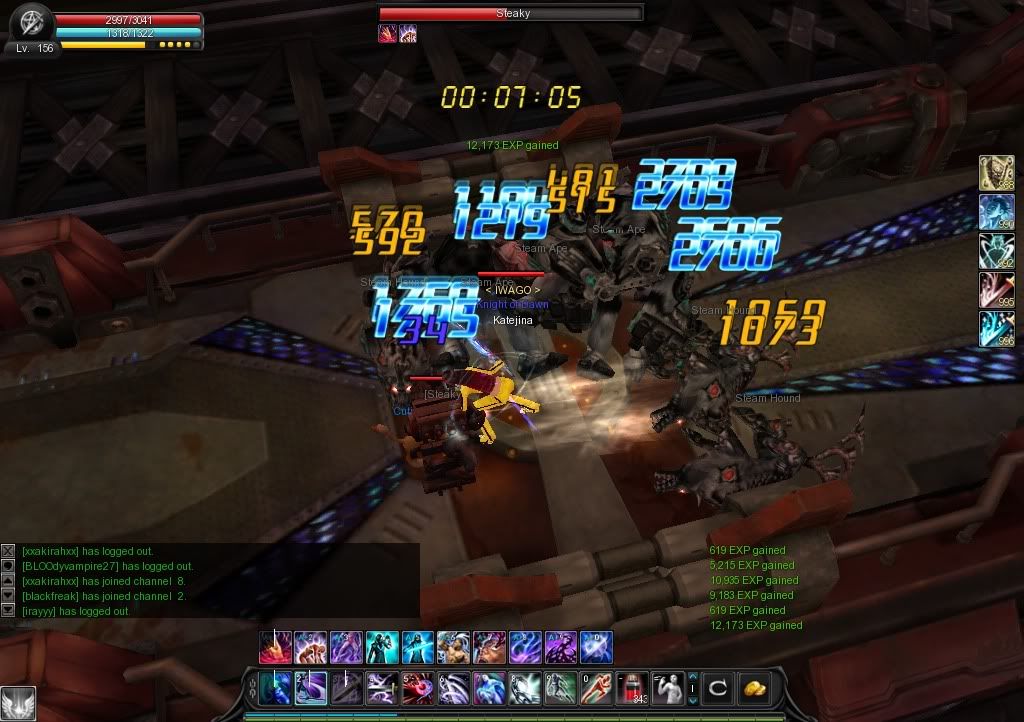 Po ubiciu steaky jak najszybciej niszczymy sciane. Jak zrespi Steaky trzeba ubic go jeszcze raz


6.b. After killing Steaky, move at the front of the train and destroy the wall. You should be quick in destroying the wall otherwise Steaky will respawn and you must kill him again in order to break down the wall.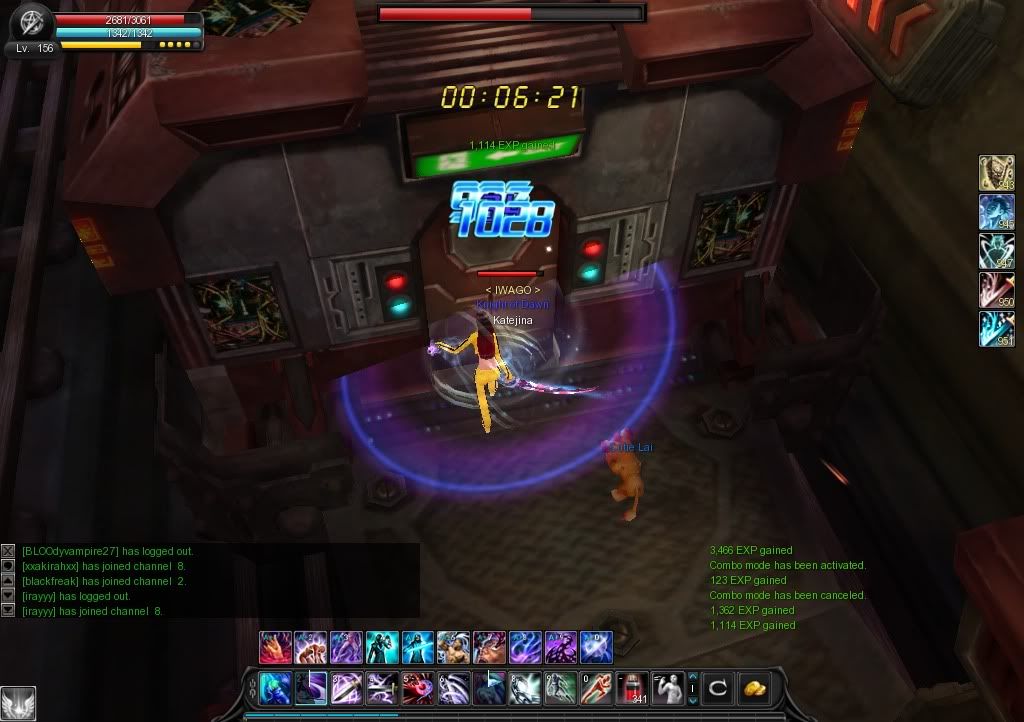 7. Za sciana ostatni boss. Po ubiciu wchodzimy w portal


7. Proceed at the front end of the area until you reach a portal. Wait for the Final Boss to spawn: Steamer LHJ-86C. You will be given a "warning" signal as he spawns in front of the portal.
8. Kill the boss. As you kill him, a message will appear saying that Steamer is refueling. While in this state, Steamer increases its attack power and defense. Try to hit him with high damaging attacks while he is refueling to prevent him from going into "topped off" state. If Steamer topped off, his attack and defense will greatly increase. Chopping about 25% of his hit points is enough to prevent him from topping off. After doing this twice, he will use his special skills: throwing flames and setting up mines. Note that the damage of his special skills is directly proportional to the number of times he topped off. The more times you allowed him to top off, the greater his attack power and the greater his defense will be.




zrodlo: [link widoczny dla zalogowanych]